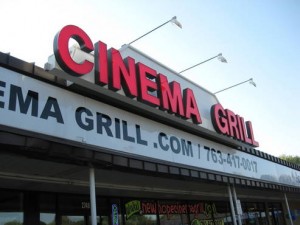 Dinner and a movie is a classic first date. Or even a great date idea in general. Everyone enjoys relaxing and talking over dinner, then seeing a movie, right? How about dinner and a movie without leaving the room?
New Hope Cinema Grill offers the chance to have that dinner-and-a-movie date without even leaving your seat. You can relax and dine in comfort in plush padded chairs while watching a movie, such as Toy Story 3, Despicable Me, Wall Street: Money Never Sleeps, or Inception, all now showing at New Hope Cinema Grill.
You can also stop in for game day. Watch the Vikings, Twins or your favorite game at Cinema Grill on a screen way bigger than your TV, with lots of beer and snacks available to you without even leaving your seat! How's that for cool?
The menu features classic pub food, beer, wine, and desserts, served by friendly and attentive staff. For more details see the online menu.
Ticket prices for shows are just $4 for adults and $3 for kids and seniors. Matinees are also $3, if the show time is before 5:30. Ticket prices each Tuesday are just $2. With prices like that, you could get by with a full meal and a show for about the same price as seeing a movie in a multiplex, with a bucket of popcorn and a soda the size of your head. And remember, the multiplex has no pause button for potty breaks.
In addition to cheap tickets, $2 Tuesday offers slices of pizza, domestic tap beers, a large bucket of popcorn, and rail pours for $2 each as well. You can also get a (reasonably-sized) soda for just a buck.
Wednesday night has specials too. Each week, it's just $7.95 for all you can eat pepperoni or cheese pizza and domestic pitchers are just $5.
Don't forget you can also book the theater for parties and events. For more info, call (763) 417-0017.
New Hope Cinema Grill is located at 2749 Winnetka Avenue N in New Hope. There is plenty of free parking, a refreshing change from events in the city.
For more information, visit www.newhopecinemagrill.com, or call the number listed above.