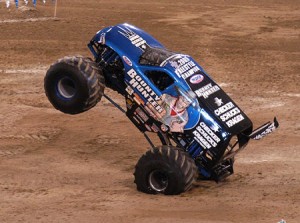 Pop quiz: What's the only event where the roar of the crowd is muffled by the roar of engines?
While there's plenty of loud things to take in, perhaps one of the coolest is Monster Jam. There's nothing quite like grinding pistons, exhaust fumes, and monster trucks getting vertical in the dirt to get your blood pumping. And Monster Jam delivers the thrills in spades.
With names like Grave Digger, Bounty Hunter, Blue Thunder, Predator, and Thrasher, the trucks will kick up dirt, bounce around, jump over things and crush stuff. There will also be Pro Stadium Trucks and Democross for your destruction pleasure.
See these Monster Trucks and their drivers strut their stuff tomorrow, Saturday November 13th at 7:30pm at Hubert H. Humphrey Metrodome. Tickets are available online from TicketMaster. Get yours now. You have less than 24 hours to get in on the action. Go!
For prices and more ticket information go here.
The Metrodome is located at 900 S. 5th St. in downtown Minneapolis.
Get your rear in gear and get out to Monster Jam tomorrow. Don't forget the earplugs.
For more information, visit www.monsterjam.com.