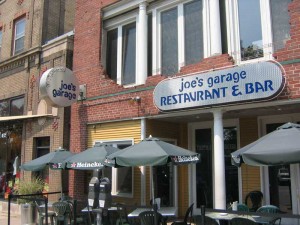 If you were left with your mouth watering from yesterday's post about The Nook and their incredible burgers, pay attention.
Joe's Garage in Loring Park, near Downtown Minneapolis, is our feature today. Burger lovers rejoice! This crowd-friendly hangout serves up some of the tastiest and most creative burgers in the metro. From the Chevre Lamb Burger and Spicy Asian Pork Burger to a satisfying veggie Black Bean Burger, a Turkey Bruschetta Burger, and several varieties of burgers made with prime ground chuck, Joe's Garage is the place to meet for a burger and a beer in the Loring Park/Downtown west area.
Of course Joe's Garage serves up lots of other food–soups, salad, pastas, risottos, sandwiches, appetizers and entrees, as well as a variety of desserts, specials and even a Sunday brunch. Also enjoy a signature cocktail or a glass of wine with your meal. Or one of several tap beers and bottled beers.
When spring rolls around again, Joe's has one of the best rooftop dining experiences in the Twin Cities, according to many. In warmer months, you'll want to take advantage of that. However, I would advise against it in November.
Joe's Garage is located at 1610 Harmon Place in Minneapolis. Metered parking and pay lots are plentiful and nearby.
Stop by Joe's Garage and get a burger and a beer today. We'll even sweeten the pot. Get $30 in food and beverage for just $15 by going to our new deals site at 365deals.mn.
For more information on Joe's Garage, call (612) 904-1163 or visit www.joes-garage.com.