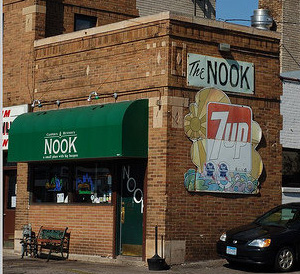 So we have featured some great burger places…
On day 10: Matt's Bar
On day 36: The Burger Place (aka L. Phillips Cafe)
…but one place has not made our growing 365 list yet. The Nook! Their claim to fame and tag line is…"A small place with big burgers!"

Ted Casper and Mike Runyon proudly believe that their "Juicy Lucy" is the best although much debate has always gone on about who has the best Juicy Lucy in the Twin Cities. (Leave a comment below and let us know who you think has the best)

The nook has daily food specials and variety of Happy Hour specials (from 10pm to Midnight).
The Nook is located at 492 Hamline Ave South, St Paul, MN 55116 and their phone is (651) 698-4347.
If you have never tried the Nook, what are you waiting for? This is one of St. Paul's best keep secrets.
Connect with them on Facebook at http://www.facebook.com/pages/Saint-Paul-MN/The-Nook/131650898092