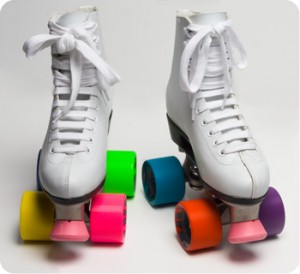 For some reason, no matter how hard I try, I can't rollerskate or ice skate, but I'm pretty capable on a pair of inline skates (AKA rollerblades, not to be confused with Rollerblade®. Confused yet?).
If you're pretty awesome with wheels on your heels, or if you're new to the game, rollerskating or inline skating is a fun way to get some exercise and social interaction during the dreary winter months. There's something oddly energizing about fluid fast movement, bright lights, and pulsating music. Even stranger is how it can be relaxing. Regardless the exercise and fun can be a great way to decompress and de-stress after a long day at the office, at school, or driving the kids all over town.
Every November through March, Hubert H. Humphrey Metrodome (er…Mall of America field? Confused again) hosts Rollerdome in both the upper and lower concourses. During the doldrums of winter, Rollerdome is available for your skating pleasure from 5 to 9pm on select nights, and is open for public skating for the season starting this Wednesday, November 10th. See the calendar for full details and open skating nights.
Tickets are just $6.50 for adults, $5.50 for students (must show I.D.), and $4.50 for pre-teens and seniors, 55 and over. Season passes are also available.
Parking is free and skating is always something that the whole family can enjoy, whether you're just learning or a seasoned pro.
For more information, visit the Rollerdome website.