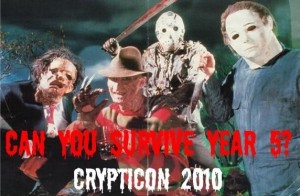 Halloween came and went already this year, and if you have been following our blog, we posted many ideas for spooky fun during the season leading up to Halloween.
But for fans of horror, the spooky just doesn't end, does it? Whether you're into comics, movies, action figures, theater, or whatever, there will be plenty for you to sink your fangs into at Crypticon 2010.
Unless you're deathly afraid of slightly upscale, but not terribly fancy suburban hotels, the setting won't add much to the experience. But nevertheless, the events on the schedule, the special guests, and all the vendors will tickle your inner ghoul. Special guests include Jeffrey Combs (Re-Animator, Castle Freak, I Still Know What You Did Last Summer, House on Haunted Hill), Walter Phelan (House of 1000 Corpses, Wishmaster, From Dusk Til Dawn), Jake McKinnon (Land of The Dead, Deathproof, House of 1000 Corpses), and others. See the full list of guests.
In addition to the special celebrity guests, Crypticon 2010 will feature panels, demos, contests, an indie film festival and a huge two-day monster rock festival with Mushroomhead, Wrecking Day, Black Flood Diesel, Impaler, Tennessee Murder Club, and many others. Check out the full list of events for the weekend.
Tickets are available for portions of the festival or for the entire time, and prices will vary depending on which tickets you want. See what tickets are available and purchase online.
Crypticon 2010 is happening this weekend, Friday November 5th through Sunday the 7th at Bloomington Sheraton Hotel.
For more information, visit www.crypticonminneapolis.com.