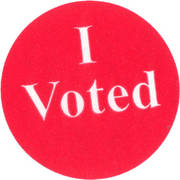 Saving money is a big theme that's trending all across the country these days. With all the economic uncertainty, it's nice to have opportunities to score savings on cool stuff.
That said, Blue Plate Restaurants, a collective of local neighborhood restaurants, is offering savings to the tune of 25% off your meal on Election Day (Tuesday, November 2nd). The only catch is that you have to vote and sport your "I Voted" sticker to receive the discount. Easy, right? Score nice savings on an awesome meal for something you were probably gonna do anyway.
The five Blue Plate Restaurants are Edina Grill near 50th & France, Highland Grill at Ford Pkwy & Cleveland Avenue in St. Paul, Maple Grove's Three Squares Restaurant in the Shoppes at Arbor Lakes, Groveland Tap, just west of Fairview on St. Clair Avenue in St. Paul, and Longfellow Grill at E. Lake Street & West River Parkway in Minneapolis.
More information available for Blue Plate Restaurants and the individual restaurants in the links provided. Check restaurant websites for maps, directions and menus.
Remember to get out and get your vote on, Twin Cities. Then head to your nearest Blue Plate Restaurant and score 25% off your meal. Fulfilling your civic duty never tasted so good!
UPDATE (Important): It has been discovered that this offer violates a law forbidding financial compensation for voting. All you have to do it go into one of their restaurants and say "Happy Election Day" and they will give you the discount whether you voted or not.