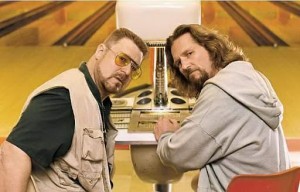 Halloween is coming up this weekend, and if the weather is anywhere close to the kind of windy, rainy yuck that's happening today, indoors might be the place to be. Weather aside, there's lots of fun activities going on this weekend in the Twin Cities. And we're all over that action, my friend.
We've been talking about a lot of scary haunted houses, horror movies, zombie pub crawl, and lots of other things that highlight the spooky side of Halloween, but this weekend is an event that explores more of the hip and funny side of the holiday.
Tonight We Abide is the third annual Big Lebowski Party, happening this Saturday, October 30th, at Bryant Lake Bowl (map and directions) from 9pm to close. Show up dressed as your favorite character from the movie and toss back some Dude-a-reenos while paying tribute to Walter, Donny, The Dude, and Jesus.
You can enjoy $2 bowling (if in costume), and $3 Flat Earth taps. DJ Christian Fritz will be on hand spinning your favorites from the Coen Brothers' films. A midnight costume contest could net you some cool swag. Lots of prizes will be given away. You can also strut your skills with karaoke before you hit the alleys and get down to some serious bowling.
If you're one of the unfortunate folks who have never seen the movie (or if you can't get enough of it), there will be a free screening of The Big Lebowski movie in the Theater at midnight, and an additional showing at 3pm on Sunday afternoon.
There is no cover, so head on over to Bryant Lake Bowl and get your Dude on! Over a decade since the movie first hit theaters, and the Dude still abides!
For more information, visit Bryant Lake Bowl online or call (612) 825-3737 (restaurant/bowling) or (612) 825-8949 (theater).