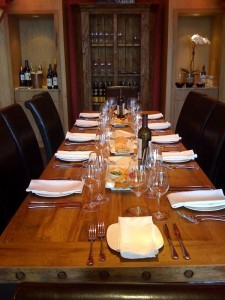 Today we're taking a break from Halloweenie activities to talk about something that every city should have: a place to taste wines, learn about food pairings, then buy some of the food and wine (along with beer and spirits as well. Spirits. I guess that's a little Halloweenie. Heh. "Weenie." I mean…ok, I'm back).
Pairings Food & Wine Market is located in Minnetonka at 6001 Shady Oak Road, and offers patrons a chance to taste, learn and shop. Pairings was built based on a passion for good food, good wine, and making meals into a grand celebration, as is still the case in many places in Europe.
This Wednesday October 27, Pairings is hosting a wine tasting event called Wines to Pair with Asian Fare. If you've ever been stumped by the decision of what wine to pair with a spicy Pad Thai, spring rolls, or a fiery Indian curry, then this event is right up your alley. The cost is $20 and it begins at 6:30pm. Call 952-426-0522 or stop in to RSVP.
Both food & wine market hours are 10am to 9pm Monday – Wednesday, and Thursday – Saturday from 10am to 10pm. Sundays the food market is open 10am to 8pm, but the wine market is closed.
Visit them online at www.pairingsfoodandwine.com to stay in the loop about other upcoming events