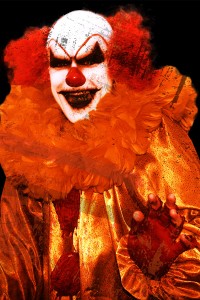 A friend of mine posted a plea for help as his facebook status yesterday. He mentioned that he and some friends wanted to check out Haunted Basement at the Soap Factory. The problems is that it's sold out for the entire season. In fact, they encourage buying tickets in September or as soon as they go on sale. You've gotta snatch 'em up, as they sell out fast. We didn't feature it because by the time we learned about it, the thing was sold out already.
Anyway, so my friend's status asked for suggestions for a different "haunted house" experience. So, here on 365, we thought we'd present enough options so this doesn't happen to you. We've featured Scream Town, Valleyscare, and Frightmares at Buck Hill so far. But there's still others you can catch before Halloween. Which brings us to today's post, a fourth option for the spooky, haunting, scream-your-guts-out experience.
Trail of Terror is on the grounds of the Renaissance Festival and is brought to you by the same organization. Trail of Terror is the Twin Cities' largest heated indoor haunted maze, with more than 25 different rooms, and five different hallways: 3D Circus, Vampire Chamber, Phobia Frights, The Butcher House & Mindbender. With over 900 scares and optical illusions, this terrifying trip will bring your darkest fears to life.
Other attractions include the Hollywood Horror Corn Maze, where you can test your horror movie knowledge as you nagivate the one-acre maze. But a wrong answer could lead you down a terrifying dead end!
If you prefer the more passive scares and just want to chill and let the scares happen, you can take a Haunted Hayride through a "deserted" forest (yeah right) where horrifying creatures lurk in wait. Another option for vehicular spookiness is the Monster Truck Ride, in which a 28-passenger monster truck takes you through the dead of night on an exhilarating ride through hills, over gravel and steep embankments. The Monster Truck Ride is an additional $10 ticket, which you can purchase online or at the door.
Also on hand will be a bonfire, a comedic hypnotist, and Club Scream, a giant tent party with a club DJ, tattoos and body art, psychics, and karaoke. All in all, it should be a howling good time!
Get your tickets online or for a discount at Walgreen's. Online tickets are $18.95 for adults and $12.95 for kids (or $15.95 and $9.95 at Walgreen's).
Trail of Terror is located south of 169 and Canterbury Road in Shakopee. For more directions, go here.
For more information, visit www.trailofterrorfest.com.