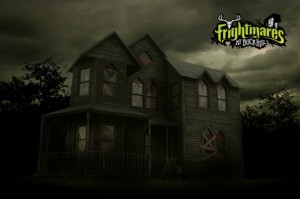 In case you haven't noticed, there's a whole lot of Halloween fun in the Twin Cities. It's a veritable Scare-a-palooza during the month of October and we're not done featuring activities related to All Hallow's Eve yet.
A short drive south of Minneapolis and St. Paul, in the suburb of Burnsville is a ski area that in October transforms into a gaggle of creepy attractions for seekers of scares.
Frightmares at Buck Hill offers four frightening attractions. First, the Bellharm-Lovejoy Asylum is re-opened and you can tour it, if you dare. Second, Haunted Hollow is a bone-chilling burial ground where many of the asylum's residents have been laid to rest. Or maybe not.
Fright Factory is an industrial site where horribly disfigured mutants have been seen wandering around. And finally, Orchard Manor Dead & Breakfast is a chilling former bed & breakfast that became overrun with the undead in the 1930's. Now it is supposedly free of vampires and on the market, so come to the open house. It's safe, I promise.
You can also catch live music on select nights.
Buy your tickets online for $18 on Thursday – Saturday nights, and only $16 on Sundays. Frightmares at Buck Hill runs Thursday through Sunday nights through the 31st. It opens at 7pm and closes at midnight. Students get a student discount with your current I.D.
Buck Hill is located at 15400 Buck Hill Road in Burnsville, just off of I-35.
Read more on the local lore and get more details at www.frightmares.com.