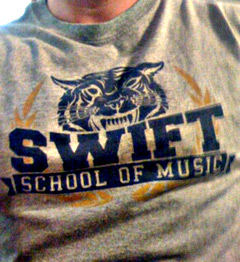 The Swift School of Music is St. Paul's newest and hottest school of music. Owners Dave and Cassie Swift run a tight ship with approachable and cool, but professional teachers with a wide variety of education and experience. They offer individual and ensemble lessons in guitar, bass, piano, percussion, drums, voice, music theory, and recording. Lessons are available at a rate of just $80 per month, with one half-hour lesson per week for as long as you like. For the visitor or part-time Twin Cities resident, single lessons are available for $25 per 30-minute session.
Dave and his teachers cater their instruction to what you want out of your experience. If you're into metal and rock a B.C. Rich, they're cool with that. If you prefer the classic folk-rock of the 60's and 70's, they've got you covered there, too. Maybe you want to learn how to engineer a recording. They'll teach you. Maybe you're a piano student and Ben Folds is your hero. If that's you, let them know and they'll develop a plan to allow you to learn what you want to learn. Head over to their website or call the number below to get started and unleash your inner rock star!
For more information: http://www.swiftschoolofmusic.com/ or call 612.308.8769
Swift School of Music from Swift School of Music on Vimeo.