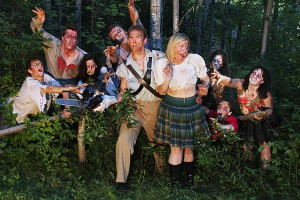 Pop quiz. What are the two best things about fall for a fan of the theater and all things theatrical? Give up?
The best thing, one could argue, would be the start of the fall theater season. The second thing, in my estimation is preparing for Halloween. There's something decidedly theatrical about Halloween, with it's costumes, decorations, parties, special effects, and scary movies. But when I think of the Halloween season, I don't usually think live theater.
Evil Dead The Musical combines the theater with spooky Halloween spirit in a fun, hilarious and gory, bloody way. Opening this Friday October 22nd, Evil Dead The Musical is the only musical in the world with a splatter zone.
The show takes elements of Evil Dead, Evil Dead 2, and Army of Darkness and combines them for one of the most unique musical theater experiences ever to hit the stage.
The plot is familiar: Five college students go to an abandoned cabin in the woods (don't they always?) and unwittingly unleash some crazy evil that turns them into demons. Then it's all up to Ash, a housewares employee who adds "Demon Killer" to his résumé with his trusty chainsaw, to save the others and get out alive. Blood splatters. Body parts are lost. Demons tell bad jokes. And it's all set to music. Sound like a great time?
You don't have to be a fan of the movie Evil Dead to enjoy the show. You don't have be a fan of horror, either. You don't even have to be a fan of theater or musicals. The beauty of Evil Dead The Musical is that anyone can enjoy it. Those who have seen it say it's hilarious, entertaining fun.
Get your tickets online now for the show of your choice. Evil Dead The Musical opens Friday, with the show starting at 7:30pm. It also runs Saturday the 23rd, the 24th, 28th, 29th (additional show at 10:30), the 30th (additonal 10:30 show as well), and on Halloween (7:30pm only), then Monday November 1st, the 4th – 6th. All shows are 7:30 unless otherwise indicated. The final show is on Sunday November 7th, a 2:30pm matinee performance.
The show is intended for adult audiences only and contains graphic language (and lots of blood). Evil Dead The Musical is showing at Illusion Theater (directions and parking). For more information about the show, visit www.evildeadthemusical.com.