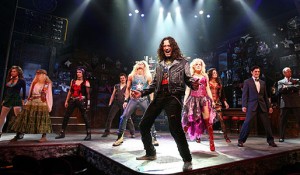 "Just a small town girl, livin' in a lonely world…" Sound familiar yet?
The now-ubiquitous Journey song "Don't Stop Believin'" seems to be popping up everywhere in popular culture. It has been enjoying a resurgence on classic rock and 80's music stations across the country and has been featured in TV shows such as Glee, Scrubs, CSI: Crime Scene Investigation, American Idol, My Name is Earl, Just Shoot Me, and even in South Park, Family Guy and King of The Hill, as well as movies such as The Losers, Shrek the Halls, and The Wedding Singer.
Besides being catchy, the song tells a common story. A young girl leaves her small town behind to find something bigger and better in the big city. It has been a pervasive theme in movie plots for decades. It is also a general and very brief synopsis of the story told in the rock musical Rock of Ages, opening at the Orpheum Theatre on Tuesday October 19.
The arena rock love story is set in 1987 in L.A., where a small town girl meets a big city rocker on the Sunset Strip. They fall in love to some of the most memorable rock songs of the 80's. The show features songs by Journey (of course), Warrant, Twisted Sister, Pat Benetar, Poison, Whitesnake, Styx, Night Ranger, Joan Jett, Extreme, Quiet Riot, Damn Yankees, and lots more.
American Idol contestant Constantine Maroulis plays the lead in Rock of Ages, which runs daily October 19 through October 24. Ticket prices vary according to seat and can be purchased online.
Big hair meets big dreams in this feel-good show. Throw up the rock horns and make sure you don't miss it.
For more information, visit the Rock of Ages page on the Hennepin Theatre Trust website.