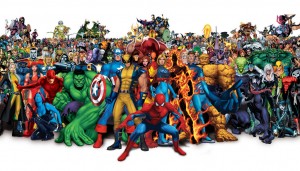 Couldn't afford to get to Tornonto or San Diego for one of the Comic Con gatherings? Well, Twin Cities Comic nerds rejoice! It ain't packed with celebrities from every show on TV, sure. But if you're a die-hard comic aficionado, you'll find lots to geek, er…gawk at tomorrow at Fallcon, the Twin Cities' premier comic book festival.
Fallcon, a semi-annual event (Springcon is in May), is being held tomorrow, Saturday October 16th at the Minnesota State Fairgrounds, in the Progress Center. On hand will be retailers and dealers from every corner of the country to bring you a ginormous marketplace where they'll be buying, selling, and trading all things comic books and fun. If there's a particular item you're looking for, peruse the list of dealers' websites, drop them an email in advance and maybe they'll be able to bring it for you to pick up.
Have you got a Superman or Wonder Woman costume in storage collecting dust? Clean it up and break it out. It's always fun to head out to Fallcon so you can hobnob with other costumed characters. That never gets old. You may even see some you've forgotten about over the years–the unsung heroes, if you will.
Check out dozens of featured guests at Fallcon as well. The list includes distinguished guests such as Jim Keefe (Flash Gordon & Dagonblood), Terrance Griep (Scooby Doo), John Olson (DIY Guide to Surviving the Zombie Apocalypse), Bob Lipski (Uptown Girl), Gordon Purcell (Farscape & IDW Star Trek), and a whole bunch more.
Admission is cash only, $7 and available at the door. Kids 9 and under are free and you get $1 off admission with the donation of a non-perishable food item. Ticket sales start at 9:30am and doors open at 10. An incentive to get there early: the first 500 through the doors get a cool goody bag with some comic-related swag, so make sure you set that alarm if you tend to sleep in on the weekend.
This family-friendly event is from 10am to 4pm tomorrow. Don't miss it.
For more information, visit midwestcomicbook.com.