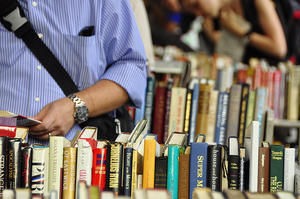 Need to take a break from all the pre-Halloween spookiness that's happening everywhere? This Saturday, get your read on and unleash your inner bookworm, as the Twin Cities Book Festival comes to Minneapolis Technical and Community College (MCTC).
The day kicks off from 10 to 10:30am with the Morning Mixer, featuring a collection of diverse and impressive local luminaries who will have their latest releases available to purchase, and the authors would be happy to sign them for you. Authors participating in the mixer will include Bonnie Blodgett (Remembering Smell), Colin Sokolowski (The Accidental Adult), Ricki Thompson (City of Cannibals), Jim Kakalios (The Amazing Story of Quantum Mechanics), and many more, plus a special guest appearance by well-known Scottish author Alexander McCall Smith (No. 1 Ladies' Detective Agency series, the Isabel Dalhousie series) until 11am.
Throughout the day, many talks and readings will be taking place from authors M. T. Anderson (The Astonishing Life of Octavian Nothing), Mary Catherine Bateson (Composing a Life), Richard Paul Evans (The Christmas Box), James Howard Kuntsler (The Geography of Nowhere), Frederic Tuten (The Adventures of Mao on the Long March), Jean Valentine (Break The Glass), and Jeffrey Zaslow (co-author, The Last Lecture). Zaslow also recently authored The Girls from Ames: A Story of Women & a Forty-Year Friendship, and in a very special festival appearance, will be joined by three of the "girls" from Ames, Iowa, now in their 40's.
Many of the presentations will be ASL interpreted as well.
Don't miss the panel discussions and group events, many featuring local authors and poets. Listen to a discussion on the future of poetry or local comic books. Keep the kiddies busy at the Children's Pavilion. Visit one of dozens of exhibitors at the book fair.
The day has a dizzying array of things to take in, so make sure you check out the full schedule so you can arrange to see everything you want to see.
MCTC is located 1501 Hennepin Avenue S. in Minneapolis. There are several ramps and pay lots in the vicinity for parking.
For more information, visit www.raintaxi.com/bookfest.