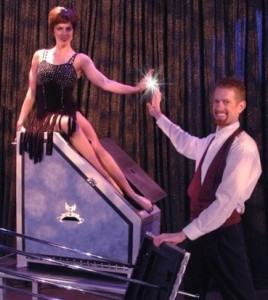 "Wha-ho, it's Magic" – The Cars
"Oh, oh, oh, it's Magic…" – Pilot
"You have to believe we are Magic." – Olivia Newton John
"Everybody wants some presto Magic." – B.o.B. and Rivers Cuomo
Magic is obviously a common theme in popular music. There's an endless list of songs with titles that include the word "magic," but most of these equate magic with a bubbling romance or a feeling someone gives when you're with them. Tristan Crist offers a different kind of magical experience–one based on illusion and make believe.
This Friday, October 15th, you can experience a bit of that magic. Tristan Crist brings his show to the St. Paul Acadamy & Summit School's Goodrich Campus Auditorium, starting Friday at 7pm.
The show is a mashup of comedy, theatrical performance, breathtaking illusions, and pulse-pounding, terrifying escapes. A master at storytelling, Tristan Crist relates well to his audiences, creating a fun, engaging, and often mesmerizing experience.
In his performance, classic magic meets modern theatrical presentation as the illusionist demonstrates dangerous disappearing acts and even predicts the future. He performs intimate sleight-of-hand tricks with cards, rings, or whatever items he gets his hands on, but also saws a lady in half, performs the dramatic Origami Illusion, and the fastest feat of magic ever–Houdini's famous Metamorphosis.
Get your tickets online now for $10 to $15, depending on the ticket.
For more information on Tristan Crist, visit bestillusionshow.com.