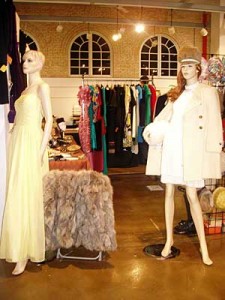 It seems fall is fashion season. Of course, fashions and trends change with the seasons, but it appears that more fashion-related events pop up more frequently in the fall than other seasons. Perhaps we could think of Labor Day, as the transition into fall, as "Fashion New Year" to kick off a brand new fashion year. Just a thought.
That said, another fashion event is hitting the Twin Cities this weekend. Friday October 15th and Saturday the 16th the Twin Cities Vintage Clothing & Jewelry Show happens at the Minnesota State Fairgrounds. Held in the Fine Arts Building at the Fairgrounds, the Twin Cities Vintage Clothing & Jewelry Show affords everyone an opportunity to score some amazing swag from years past, including jackets, pants, dresses, accessories, purses, jewelry, and a whole lot more.
Head out to this event and you'll likely see local college students, middle-aged folks and even seniors browsing right alongside designers from Europe, collectors from East Asia, and fashionistas from New York. It's an interesting mix of cultures and people all brought together by a love for vintage goods.
Admission for Friday is $7 and shopping is from 5 to 10pm. Also, dress in your favorite vintage clothes and get a $1 off admission. You can also catch a Vintage Fashion Parade, cocktail bar, and live jazz combo on Friday night. Saturday the fun resumes at 10am and goes until 5pm.
The event brings together 45 vendors from all across the Midwest, including many local shops and dealers. There will be vintage makeup artists and hair stylists on site as well, so ladies can do it up with a beehive or a bouffant, and fellas can achieve the perfect pompadour. Or maybe you want to go back–way back–to Victorian styles. The stylists can help you with that too.
Free parking is available on site. For more information about the Vintage Clothing & Jewelry Show, visit Cat's Pajamas Productions online.