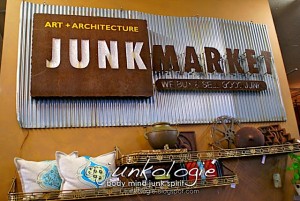 Remember a few years ago when shabby chic was all the rage? In the modern age, recycling is always in fashion. We need to conserve resources, right?
Well, what about turning our junk into art? The aim of this event is to encourage doing just that. Art + Architecture, Junk Market Style is an event that spans several days, kicking off with a charity junk gala Wednesday night, October 13th, from 6 to 9pm, or whenever the party wraps up. The gala, because it's for charity, requires a ticket for admission, available online for $50. Proceeds go to Ever After Gowns, which we featured recently. Patrons of the gala event will get to start their shopping early.
The junk market opens to the public Thursday the 14th at $5 per day, or you can get a 3-day pass for $10, which covers admission to the junk market and chances to win prizes each day.
Each day, artisans will be selling their original artwork, made from junk. I'm here to tell you there's some very creative pieces, so don't let that fact that the art is made from tossed-aside trash deter you from enjoying your shopping experience. Some pieces can look very neo-industrial and complement an urban bohemian decor quite well. Others may coordinate better with a traditional, country or even Victorian home style. And of course, some art will surprise you to find out it once was junk.
Besides being eco-chic, reusing junk to make art can be incredibly cool.
Hours are Thursday from 9pm to 6pm, Friday from 10am to 6pm, and Saturday from 10am to 5pm. There's even a bonus surprise shopping day on Sunday for free from noon to 4pm.
The junk gala and subsequent junk market shopping days are held at Art + Architecture, 3338 University Ave SE in the Prospect Park area of Minneapolis.
For more information, visit www.aajms.com.