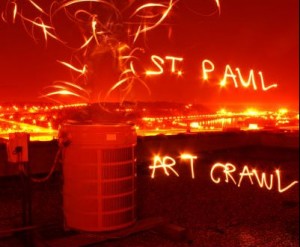 Did the onslaught of summer block parties and festivals wear you out? Are you a little burned out on big crowds, looking for parking and the blazing hot sun baking your skin like a potato?
Fall is a brand new season, and with it come events with a whole new vibe about them.
We actually featured it on Day 15 previously, but the time has come once again for the fall rendition of the St. Paul Art Crawl. Currently in its 30th year, the Art Crawl is a self-guided tour of more than 300 artist exhibits in galleries, studios, shops and pop up locations all over St. Paul.
While concentrated mainly in Downtown and Lowertown St. Paul, there are locations near the Midway area, Grand Avenue and Harriet Island as well. You can browse all of these locations and check out the art at your leisure.
Don't miss the Art Vending Machine, an old cigarette vending machine recycled to sell cigarette pack-sized original art at $5 a pop. Proceeds from the sales of this art will benefit Altered Esthetics. The vending machine is located near Black Dog Coffee and Wine Bar at 308 Prince Street in St. Paul.
Also check out the legendary Soundcrawl event, featuring "Laptopia," a laptop marching band from McNally Smith College of Music, concerts, DJ sets and more. Check out the Soundcrawl schedule for full details.
The St. Paul Art Crawl kicks off tomorrow night, Friday October 8th from 6 to 10pm, and resumes Saturday from noon to 8pm, then wraps up Sunday the 10th from noon to 5pm.
For more details, visit www.stpaulartcrawl.org.