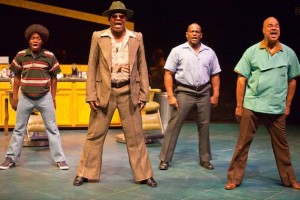 Seems there's enough going on in the performing arts in the Twin Cities to keep everyone on their toes. With so many theaters and playhouses, there's never a shortage of live theater to see. Some is musical theater, some is drama. Some is comedy. Whatever genre you prefer, there's something that will appeal to you in the local scene.
Right now through October 10th (only 4 more performances), you can catch Always & Forever, a musical revue set in a 1970's urban neighborhood barbershop. The show mixes wisdom and song to show the audience what love is all about.
Set to a soundtrack of popular 60's and 70's motown, R&B, and soul classics such as "Tears of a Clown," "I Want You Back," "Betcha By Golly Wow," and "I'll Be There," this show highlights what real love is through the lives of four African American men.
You can get your tickets online for the October 7th, 8th, 9th, and 10th performances, or call (612) 339-4944. Prices vary depending upon which performance you'd like to attend. Get them fast though. This just came up on our radar and there's only those four performances left.
Illusion Theater is located at 528 Hennepin Avenue in Minneapolis. There are several paid parking lots and ramps nearby, and there are several public transit options available through Metro Transit.
For more information on Always & Forever, visit the play's page.
For more information about Illusion Theater, visit www.illusiontheater.org.