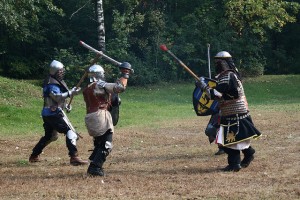 If Ren Fest (Day 153: Renaissance Festival) was Alec Baldwin, Medieval Fair would be Daniel. Daniel, the younger and overlooked Baldwin, could very well be every bit as talented and appealing as the eldest Baldwin brother, but people just don't know much about Daniel. It's too bad, really.
Medieval Fair is held at Caponi Art Park in Eagan this Sunday October 3rd from 11am to 5pm. If you need a break from the 21st century, head out to the park Sunday and discover what it's like living in the Middle Ages in the woods. The wooded 60-acre park is transformed into a medieval village, forest, and battlefield.
Members of the Society for Creative Anachronism (SCA) will be dressed in period costumes and present educational demonstrations and activities to the public, which will include rapier and armored combat, music and dance, weaponry and armorers, storytelling Bards, jugglers, cooking, period games, heraldry, bone carving, fiber arts, and other arts and skills.
When you've had enough of chainmail and Olde English, step over to the park's Sculpture Garden and Theater in the Woods.
Admission is free to this family-friendly event, and it will be game on, rain or shine, except in the event of severe weather or heavy rain. Snacks such as mini donuts and sno cones will be available on site. Parking is nearby and plentiful.
For more information, visit www.caponiartpark.org/programs/medievalfair.