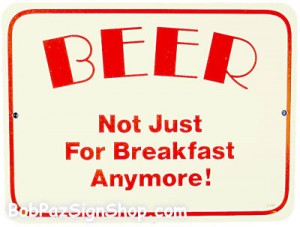 Beer for breakfast? Hey, why not?
Tomorrow, Saturday October 2nd, from 8 to 11am at the Aster Café on the riverfront in Northeast Minneapolis, beer will be a key ingredient in the breakfast served. The one-of-a-kind à la carte beer breakfast will precede the Autumn Brew Review that's being held near the historic grounds of the old Grain Belt brewing complex in NE Minneapolis.
Aster will be serving up waffles made with Southern Tier Pumking or New Holland Ichabod pumpkin ale, as well as crêpes made from Furthermore Fallen Apple Cream Ale, Great Lakes Oktoberfest sausages, and a Rush River Beer-braised pork burrito.
In addition to delicious beer-infused breakfast items, brewmasters from Rush River Brewery, Great Lakes Brewery and Aran from Furthermore Brewery will be on hand to chat it up with guests.
The breakfast is being held for those who are heading out to the Autumn Brew Review. Unfortunately, last we heard Autumn Brew Review was sold out. However, as far as we know, you can still get in on the beer breakfast. Lucky you.
Aster Café is located in St. Anthony Main in Northeast, at 125 SE Main Street in Minneapolis. Call (612) 379-3138 for more info or visit www.aster-cafe.com.