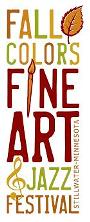 This weekend's forecast calls for lots of sun and mild, if cool weather. Sounds like great weather for a fall festival.
This weekend, October 2nd and 3rd in Stillwater, you can catch the Fall Colors Fine Art & Jazz Festival. While the weather may be a little on the cool side, there is plenty of local art and music to warm you up.
Enjoy the peak of the fall color season on the banks of the beautiful St. Croix River while enjoying artisans' works including photography, jewelry, pottery, painting, metal and a whole lot more.
Regional musicians will be heating up the stage as well. Saturday the 2nd, Greg Herriges kicks off the live music with his progressive fusion. He brings impressive acoustic guitar and skills on multiple instruments along with his relaxing style, while dazzling his audience.
The Sue Orfield Band follows at 3pm with their soulful, funky jazz, with bluegrass, calypso, and Hungarian influences, wrapping up the afternoon's music lineup.
Sunday the 3rd, the music gets rolling again at noon with the Joel Shapira Quartet. With his formidable jazz guitar artistry, Joel and his quartet bring traditional and modern jazz to the festival.
At 2, the local Plie Dance Company entertains with moves from jazz to hip hop to modern, kickline, funk, ballet and tap. Following at 3pm will be Parisota Hot Club playing their Hot Club music, also known as Gypsy Jazz, a style that originated in the mid 1930's in Paris.
The Fall Colors Fine Art & Jazz Festival is free and open to the public both days from 10am to 5pm. This year, unfortunately, due to rising waters near the St. Croix River, the festival will be held at City Lot #9, south of the Minnesota Zephyr, in the 600 block of North Main Street in Historic downtown Stillwater.
For more information, visit the event page on the Stillwater Chamber of Commerce website.