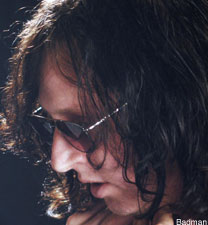 Admittedly, today's post will not be for everyone. But in keeping with our mission, it is something to do in the Twin Cities, and it is something unique to the Twin Cities. A local artist is making news by doing something almost nobody has ever attempted.
Mark Mallman, a rock piano player and songwriter, has been thrilling audiences in the Twin Cities for years. He has written and will perform a song on Thursday October 7th at the Turf Club in St. Paul. That's right. I said A song. As in one song. And that song won't be over until Sunday October 10th.
This is the third time Mallman has performed a marathon song, but this will be his longest. With over 400 pages of lyrics and over 100 guest musicians rotating in and out of the band, the 78-hour song will be three pieces, 26 hours each, much like a marathon is 26 miles, according to the piano rocker. But there will be no break in between.
Why, you may ask, would someone undertake such a thing? Because. "I am not a magician or a stuntman attempting to set a world record," says Mallman. "I am a professional musician. I seek to expose the raw nerve of creativity itself."
The event will be telecast live on his website at http://markmallman.com/. See the site for more info.
And you thought Phish played long songs.