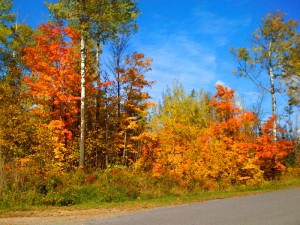 I'm currently in northern Minnesota spending some time with family, and for this area, it's close to peak viewing season for the fall foliage. I took the picture to the left yesterday morning with my iPhone while taking a walk.
While it's not quite peak time yet in the Twin Cities, it's a great time to plan. Some of the best viewing of fall colors in Minnesota is in the St. Croix River Valley from Taylors Falls to Prescott, WI. Just take St. Croix Trail and head south for some fantastic colors.
Another good bet for viewing in the Twin Cities metro area is Afton State Park near Hastings. You see prairie grass as you enter the park, but there are trail loops that take you through wooded valleys along the St. Croix River.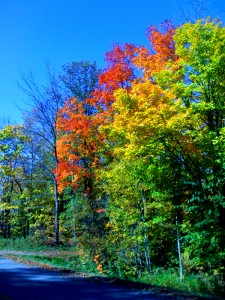 Fort Snelling State Park in St. Paul, which we've previously featured on 365, has some of the best viewing for flowers in the state, in addition to the colorful leaves.
Lake Maria State Park near Monticello is another great place for viewing fall colors. There are a variety of cottonwoods and ash trees flaunting their golden yellow and light green hues, while sumac and maples will be flashing brilliant shades of red and orange. See the fall color report for a peak viewing map and summaries of the best places for viewing.
With the daytime highs still in the 60s and 70s, it's hard to imagine better weather for viewing the colorful fall foliage in and around the area. Get out and enjoy the fall weather and fall colors, Twin Cities!