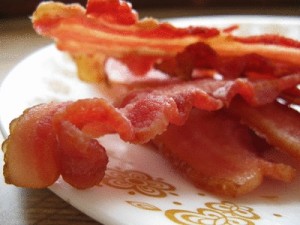 What's the best way to make anything better? Add bacon, of course. Filet Mignon not quite awesome enough? Wrap it in bacon. Need those shrimp or scallops to be extra great? Wrap 'em in bacon. Bacon, bacon, bacon.
In response to our culture's current bacon fixation, Triple Rock Social Club has answered with Free Bacon Wednesdays every week from 9 to 11pm with purchase of a beverage.
The Triple Rock is a popular favorite among Minneapolitans for diner fare, gargantuan portions, and the ability to make almost anything into a vegan dish. That, and the live music.
The fine folks at the Triple Rock start the bacon well ahead of time. Just swing by around 9, grab a beer and and a plate of bacon and enjoy. Also get $3 PBR Tall Boys and free bacon fat-cooked popcorn. The fun last until 11 or while supplies last.
There is no cover for Free Bacon Wednesdays. This is a 21+ only event.
For more information about the Triple Rock Social Club, visit www.triplerocksocialclub.com.