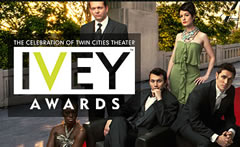 Why should New York and Hollywood have all the fun? Those cities are often associated with fame, fashion, and glamor. Award shows often honor the folks who do well in their craft, whether it be fashion, cinema, television, theater, or whatever. We watch in awe as celebrities walk the red carpet to camera flashes and rapid-fire questions from journalists and bloggers, and their smiles never fade.
Something you may not know about Minneapolis is that it hosts its own theater awards show each fall to honor those who excel in local theater productions from September 1st, when theater season starts, to the same date the following year. The Ivey Awards will bring a bit of the glitz and glamor of Hollywood and the Red Carpet to the Historic State Theatre in downtown Minneapolis.
The evening includes entertainment provided by the Twin Cities theater community, locally and nationally noted hosts, and recognition of theater organizations and individuals. There are three general categories in the recognition ceremony.
1) Awards for established works and for emerging works by both theater organizations and individuals (determined by representatives of all theater organizations participating in the project)
2) An award for theater highlights (determined by the theater-going public)
3) Recognition for work in the areas of production, design, direction, performance, and special citations (determined by a group of 100 volunteer evaluators)
Recognition is awarded for work produced during the previous year, and is formulated by those in the Twin Cities who love theater. Because creativity isn't a competition, there are no nominees, pre-determined award categories or set number of awards. Submissions can be made from any member of the theater-attending public.
Online ticket sales for the event ended at noon today, but you can now purchase tickets in person at the State Theatre Box Office or by calling Ticketmaster at (800) 745-3000 (service charge will apply for phone orders). Box Office hours are Monday through Friday from 10am to 6pm, and from noon to 3pm on Saturdays. The box office is closed Sundays.
The Ivey Awards begin at 7:30pm on Monday September 20th.
For more information, visit www.iveyawards.com.
For more information on the Historic State Theatre, visit www.hennepintheatretrust.org.