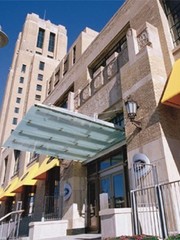 We've talked about Midtown Global Market on 365 before (Day 160: Uplift Chess Club), but we never really got into what it is, exactly. Midtown Global Market is multicultural hub of locally-owned restaurants and markets from various places across the globe–the Mediterranean, Middle East, Africa, Latin America, and South and East Asia–which makes MGM a veritable paradise for the gastronomically adventurous, or those among us with a flair for ethnic flavors.
I don't have a typical Minnesota palate, so I tend to gravitate towards the exotic and flavorful foods of other cultures. If you do too, may I suggest checking out Sunday Brunch at Midtown Global Market?
Each Sunday from 11am to 2pm, a chef from Midtown Global Market will prepare and sell brunch in the Market's Central Plaza. With different chefs featured each week, it's a great idea to check it out often to get a variety of choices. If you like variety as much as I do, you'll really enjoy the various foods, many made from fresh, local ingredients, and always prepared by a Twin Cities chef.
Check out the Midtown Global Market calendar for other cool events happening there. Why not try the brunch this Sunday? And if you enjoy it, check back often for something new.
For more information on Midtown Global Market, visit midtownglobalmarket.org.