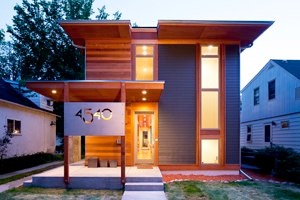 Something you may not think about too much in the Twin Cities is architecture, unless you're immersed in the scene. Maybe you're not aware of it, but the Twin Cities has a tradition of cutting edge architecture. Twin Cities-based Alchemy Architects developed the iconic Wee House, and Lazor Office is known for the FlatPak modern prefab homes. Both are ahead of the curve in offering prefabricated homes with green materials and modern design sensibilities at an economical price.
This weekend Homes by Architects offers a tour of 14 different new and remodeled Twin Cities homes designed by reputable and award-winning architects. Homes are open both Saturday and Sunday (September 19th and 20th) from 10am to 5pm for viewing. The tour offers a chance to experience how architect-designed homes are the product of a different process.
Many potential homeowners find a plan in a magazine or on a website and obtain the blueprints, hire a contractor and work out legal and financial options before finally breaking ground. The process is a bit different when the home is custom designed by an architect.
The tour is about more than mere aesthetics. It's about how design solutions, both subtle and dramatic, elicit an emotional response and create a sense of place, and about how working with an architect can elevate an ordinary living space into a dynamic tailored domestic environment.
The Homes by Architects Tour features both remodeled and newly constructed homes masterminded by Twin Cities architects such as Charles Stinson, Nguyen Architects, SALA Architects, Inc., CityDeskStudio, Inc., and many more.
Tickets are no longer available online, but can be purchased at any of the home locations for $10 for a single home tour or $20 for all 14 locations. Payment is cash only, so keep that in mind if you want to take the tour. Check out the map for the locations of the homes.
If you have any questions call the American Institute of Architects (AIA) at (612) 338-6763, or visit www.homesbyarchitects.org/Homes_By_Architects_Tour_AIA_Minnesota.