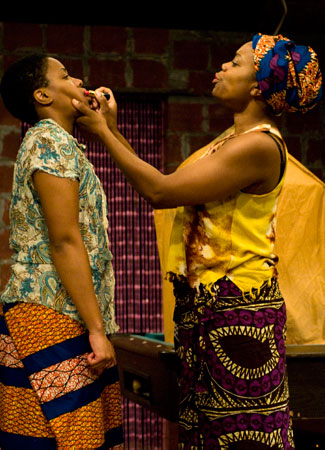 As you read the blog in the coming weeks, you'll probably notice a shift from a lot of outdoor activities to more and more indoor fun. Don't get me wrong. Fall is a great time to be outside, to enjoy the crisp fall air, play some ball, take a jog around the lake or whatever. In fact, I'd strongly encourage you do those things.
When it comes to entertainment, particularly stage and theater, this time of year is the start of a new season. Mixed Blood Theater at 1501 S. 4th Street in the West Bank area of Minneapolis is kicking off it's current season on Friday September 17th with A Cool Drink a Water, a play written by Thomas W. Jones II. The play transports the cast from A Raisin in the Sun into 2010 comedy. The Youngs are now upper middle class folks and the only African Americans living in a gentrified neighborhood. The family surprisingly struggles with affluence, while dealing with 21st century feminism, aspirations of hip hop stardom, and a disillusioned return to Africa, with rapid-fire comic banter.
The show opens Friday and runs through October 10th. Showtimes are 7:30pm Wednesday through Saturday, and 3pm Sunday afternoons. There are no shows Mondays and Tuesdays. Ticket prices vary depending on the day, so check dates and prices and order tickets online.
Don't forget there are ticket packages available as well.
For more information on the show or about Mixed Blood Theatre, visit www.mixedblood.com.