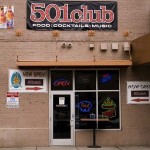 As we've discussed before on 365, the Twin Cities are a veritable hotbed of fantastic local music. There's a seemingly endless list of venues to catch live music in the area, a few of which we have mentioned before. With the weather turning from summer to fall, and soon to winter, indoor activities will become more the norm for many of us Twin Citians.
Among the many popular venues in the region of Downtown Minneapolis, a place that sometimes gets overlooked is the 501 Club, at the corner of Washington and 5th Avenue S. Nearby clubs such as the Fine Line, First Avenue, Bunker's–even Grumpy's–host live local music and some nationally-touring bands. But the 501 Club in a small unassuming corner of the 501 building on South Washington is easy to miss. But that would be a mistake.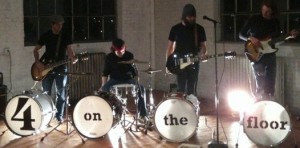 Many of the Twin Cities' most talked about up-and-coming bands have played there, or will be playing soon. Some have (temporary) regular gigs at the 501. Case in point: The 4ontheFloor (pictured). If you live even a part of your day online or keep your finger on the pulse of the Twin Cities music scene, you may have heard about this raucous band that provides great stompin' fun at their shows, courtesy of four kick drums. That's right. Each band member plays a kick drum while wielding their usual instruments.
The 4ontheFloor brings their southern-fried, rockin' blues/country stomp to the 501 Club each Wednesday in October. Shows start at 10pm and did we mention they're absolutely free? Check out The 4ontheFloor on Mpls.TV's City of Music series:

A lot of the shows at the 501 are free, but a few have a modest $5 cover. Some of the other shows coming up include performances by local favorites like Joey Ryan & The Inks, The Goondas, Mercurial Rage, BNLX, Red Pens, Small Cities, Blue Sky Blackout, Pictures of Then, and Maudlin, among others.
On October 9th, the Zombie Pub Crawl hits the 501 Club with brutal live music by Impaler, Savage Aural Hotbed, and others playing outdoors, along with The ODD-acious Oddities Sideshow & Circus, while Double Bird and Al Church & State tear up the stage indoors. Check out the complete calendar through the end of October for more information.
The 501 also has great menu specials, drink specials, and other fun stuff happening during the week.
For more information about the 501 Club, visit www.501.mn/home.