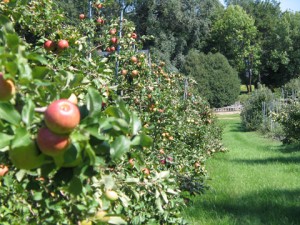 Unlike most of my friends, fall is not my favorite time of the year. Not for any particular reason, it just isn't. I've been seeing tweets and facebook statuses saying how my friends love the fall and are excited for the cooler, crisp air. I don't share their excitement about it. I could stand to see summer stick around a bit longer.
At any rate, one of the great things about fall is some of the fall activities happening in our dear Twin Cities. One of the rites of fall for many is a trip to the orchard. The Afton Apple Orchard is located at 14421 South 90th Street in Hastings (map & directions). This orchard has 190+ acres of not just apples, but also strawberries, raspberries, and pumpkins and lots more.
You can go, pay a small admission charge ($3 for 5 and up, $2 for kinds under 5) and pick your berries or pumpkins. There are also gourds and squashes. Everything ripens at different times, so make sure you call (651) 436-8385 ahead of time to see what is available for picking.
Unfortunately, this year's apples sustained too much hail damage to be picked, but the onsite store has many different varieties available from other Minnesota orchards. The store also sells lots of other Minnesota products including honey, apple cider, jam, and maple syrup, to name a few.
You can stop at the concession stand during apple season to try apple fritters, apple donuts, caramel apples, and apple sundaes, as well as hot dogs, chips, soda, coffee, hot chocolate, and of course fresh apple cider.
Pumpkin season is expected to start on September 25th. You can stop by and look for that perfect jack-o-lantern, baking pumpkin, or gourds, squashes and ornamental corn for that fall centerpiece.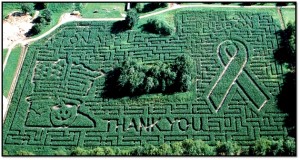 Speaking of corn, check out the awesome corn maze, opening next week, September 18th. The maze spans 15 acres and has three separate phases based on difficulty level–a total of six miles of twists and turns. It's a great activity for the whole family, a class trip, a youth group, or anyone, really.
Afton Apple Orchard is open now for the fall season. It's a fun, family-friendly way to get out and get some fresh air with the whole family. Call (651) 436-8385 or visit www.aftonapple.com for more information.