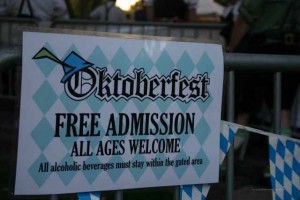 One of the most celebrated rites of fall in the Twin Cities has to Oktoberfest. Well, break out the lederhosen, Twin Cities! The time has come to grab a stein of your favorite lager and polka till you drop.
Oktoberfest hits Minneapolis starting today at 4pm. The festival will be held in the St. Anthony Main/Riverplace area along the riverfront in Northeast Minneapolis. Admission is free and all ages are welcome.
Two stages of live music will entertain you throughout the weekend. Starting things out at 4pm today on Oompah-Pah Stage is Bill Koncar Band with all your favorite traditional German music and polkas. German folk group Alpensterne takes the stage at 7 for more of the same to finish off the evening.
Meanwhile, the Minnesota Music Stage gets things rolling at 4:30pm with acoustic rock duo Trick and then at 8, Painted Saints bring their unique psychedelic folk to the festival to round out the music for the evening.
The music fires up again Saturday at 11am with Bill Koncar Band again on the Oompah-Pah stage. Filling out the day with German and polka music on that stage will be Cafe Accordian Orchestra, The Squires Band, SG Edelweiss Dancers, and The Jolly Huntsmen.
Over on the Minnesota Music Stage, Saturday brings a variety of entertainment starting with The Bill & Tom Show at 11am followed by the bluesy soul stylings of Paul Metsa and Willie West, and Al's Rockabilly quartet to close out the day.
Sunday the Oompah-Pah Stage once again features The Jolly Huntsmen starting at noon, SG then the SG Edelweiss Dancers, and Alpensterne, while the Minnesota Music Stage brings you the country/folk/blues of Tex Pistols at 12:30 followed by the gritty Americana of Farewell Milwaukee at 4.
Oktoberfest is about more than just the music, of course. There's also lots of German food and beverages to be had onsite as well, from the Black Forest Inn, Mama Java, Da' Lemon and Man Cave. But what good is a Bratwurst without a beverage to accompany it? You can purchase a wristband for a buck with I.D. and get any one of a number of beers, mostly German, but a few domestics as well. If you're not much of a beer drinker, there will be wine, lemonade, sodas, bottled water, smoothies, and shakes available as well. See the full list of food and beverages.
The best option for parking is metered parking on nearby streets or the St. Anthony Falls Parking Ramp. Check out the Parking, Map, and Directions page for more details.
Still have questions? Visit minneapolisoktoberfest.com.