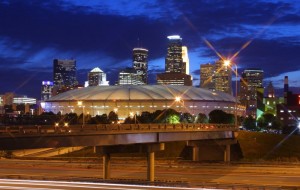 With everyone getting new stadiums, the Vikings got the next best thing: their old stadium renamed.
Mall of America Field, the stadium formerly known as The Metrodome, now has the field to themselves and no longer has to share with the Minnesota Twins. Of course, Mall of America Field, along with the name change, is also getting some much-needed renovations to keep up with the times and the demand. The Minnesota Momentum initiative is a grass-roots effort to revamp the Vikings program in an effort to keep it strong and keep in in Minnesota. Get the skinny on that program at their website.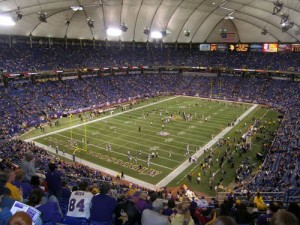 Many Twin Citians have informally named today Purple Thursday, as the Vikings kick off their season against the New Orleans Saints in a rematch to avenge their heartbreaking loss last January. Even though this is an away game, played at the Superdome in New Orleans, we thought we'd take this occasion to mention the Mall of America Field as one of our 365 things to do.
One week from Sunday (the 19th) will be the Vikes' first home game of the season, and there has been some forward momentum for both the fans and the team with the return of Brett Favre as QB. I think we can expect our home games to be well attended. Get your single game tickets or season tickets if you want to ride the Purple Train, as some fans predict, all the way to the Superbowl.
Of course, Mall of America Field isn't only used for Vikings games. The stadium hosts high school sporting events, concerts, amateur sports, monster truck rallies, and lots more.
For more information on the Vikings organization, visit www.vikings.com.
For more information on Mall of America Field at Hubert H. Humphrey Metrodome, visit www.msfc.com.