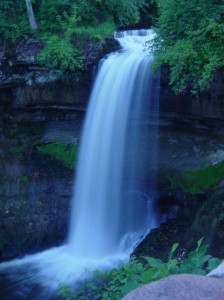 With the sudden fall-like weather in the Twin Cities, it's a bit more comfortable to get out and do some outdoor activities without worrying about sticky heat or torrential downpours, both of which have dominated this summer.
That said, Minnehaha Park is a nice option for outdoor fun. The daytime highs for this weekend are forecast to be in the lower to mid 70's Fahrenheit, which makes for a comfortable hike through the trails that start near Minnehaha Falls (pictured) and wind through the woods along the creek all the way to the Mississippi River.
Even if the "deep woods" hike isn't your style, there's plenty of open space on the grass under the trees to have a barbecue, picnic, or to toss around a frisbee.
The 193-acre park features the 53-foot falls, limestone bluffs, and river overlooks as well as an off-leash dog park at the south end of the park, picnic shelters, a disc golf course, and the popular Sea Salt Eatery serving up fresh and tasty seafood is also located in the park.
If you're the sport type, Minnehaha Park has a volleyball court as well as pedestrian/bike trails for runners, bikers and walkers. Bike rentals are available through Wheel Fun Rentals. If you get a yen to rent a surry or some other type of pedal-powered vehicle, they'll probably have that too.
Minnehaha Park overlooks the Mississippi River and is located at 4801 South Minnehaha Park Drive in Minneapolis. Hours are from 6am to 10pm daily. For more information call (612) 230-6400 or visit their page on www.minneapolisparks.org.