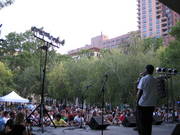 The Twin Cities definitely has its share of music festivals. We've featured many right here on 365. Even though, for the most part, music festival season is over, there is one more worth mentioning this upcoming weekend.
The Concrete and Grass Music Festival, besides being one of the last festivals of the season, is certainly one of the most eclectic. This free outdoor event held at Mears Park, downtown Saint Paul is a unique partnership of the St. Paul Chamber Orchestra, Minnesota Opera, Ordway Center, Schubert Club and the Twin Cities Jazz Festival.
This celebration of the opening of performance season includes performances from artists of multiple genres, including jazz, opera, chamber music, rock, dance, roots and world music. Where else could you see Salsa del Sol, Schubert, and Suicide Commandos all sharing the same stage?
Other performances include the Minnesota Opera, Dessa, Eve and the Apple, Tanner Taylor, Molly Maher, Desdamona, Young Relics, Irv Williams, and Communist Daughter, among others.
The festival gets rolling Thursday night with performances at various venues throughout the Lowertown area surrounding Mears Park. The Black Dog has Mississippi Peace at 8pm. At 9, two shows are happening: a punk show at Station4 with the F Bombers, Dead & Gone, and Slurred Vision, and and Tanner Taylor entertains at the Artists' Quarter. At 10pm Senor Wong's plays host to Ali Washington and the Movement.
On Friday the 10th and Saturday the 11th, the Concrete and Grass Festival takes to the outdoors with two stages in Mears Park. Friday night, the Main Stage gets things started with The Minnesota Opera at 5pm. Irv Williams takes the stage at 6:30, followed by the hip hop and soul stylings of Dessa at 8:30. Meanwhile on the Acoustic Stage, you can catch an acoustic set from Desdamona at 6pm, then Molly Maher at 7:30.
Saturday kicks off at noon on the Main Stage with Salsa del Sol followed by Schubert at 1:30, and Saint Paul Chamber Orchestra at 4pm. The evening features two established local rock acts. Communist Daughter hits the stage at 6:30, then at 8:30, catch the Suicide Commandos.
The Acoustic Stage includes performances by Eve & the Apple, Tanner Taylor, Moses Oakland, and Young Relics. You can read bios for all performers online if you're curious. For a full schedule of performances and set times, visit the schedule page.
For more information, visit www.concreteandgrass.com.