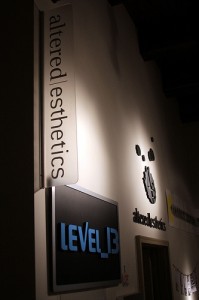 About 30 years ago, a gaming revolution started with a very rudimentary digital tennis game called Pong. Through the years, digital technology in gaming evolved quickly. Soon we had Atari gaming systems that had basic controllers and cartridges that contained different games. Atari also became a big force in arcade games. Before we knew it Nintendo came along and changed the game, so to speak. Then personal computers jumped on the gaming bandwagon, and now we have Sony's PlayStation systems as well as X-Box, and Nintendo's new console, the Wii.
Despite the highly evolved digital gaming world we have today, there are many purists who miss the days of classic Atari and Nintendo games–who miss the thrill of dropping a coin in a slot and playing a challenging game in an arcade, with the music pumping and lights from the games illuminating the otherwise dark room. It was an exciting time.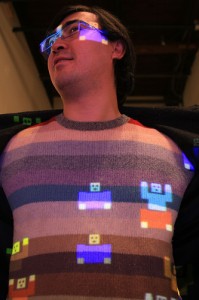 Right now at Altered Esthetics, you can recapture a bit of that excitement. Level_13 is an exhibit of art that is inspired by classic video games and video game culture.
Level_13 offers a look at the way classic video games have inspired an entire generation of artists, from musicians and digital artists to painters and printmakers, with an eclectic and vibrant mix of media.
This year's installment highlights abandoned and obsolete technologies of decades past.
There will be an artists' discussion Saturday, September 18th from 1 to 3pm.
The show opened last week and runs Tuesdays and Thursdays from 1 to 7pm and Saturdays, 1 to 5pm through September 23rd at Altered Esthetics. The gallery is free, but you can make donations at the website to support their work. It's located at 1224 Quincy Street NE in Minneapolis.
For more information, contact Altered Esthetics at (612) 378-8888, or visit www.alteredesthetics.com.