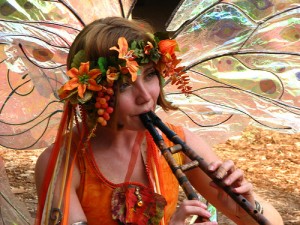 Dig out your chainmail and get set to nerd out. It's Ren Fest time again!
Renaissance Festival opened August 21st with majestic fanfare and is once again providing a time travel-like experience to those who occasionally jones for the simplicity of life, pre-industrial age. In it's 40th year, the festival will be happening weekends 9am to 7pm, plus Labor Day and Friday October 1st, rain or shine.
With a different theme each weekend, you can come back again and again and have a different experience each time. This weekend, catch A Royal Celebration, featuring a royal wedding, longbow competition, bocce ball competition and more. Next weekend, the 11th and 12th, participate in the Royal Ale Festival, with free beer tasting, Pet Fest, and Military Weekend. Check out the complete listing of weekend themes to plan your visit.
Other highlights of Renaissance Festival include 16 stages of entertainment, live armored jousting, food and drink fit for royalty (turkey leg, anyone?), 100+ artisan booths for all your Middle Ages wares, and a whole bunch more.
You can buy your regular adults' and children's tickets online for $17.95 and $9.50, respectively. For other ticket options and to order your tickets online, head over to the ticket info page. For savvy ticket shoppers, you can buy tickets at a discount in person at SuperAmerica, Whole Foods, Walgreen's, and the Shakopee Chamber & Visitor's Bureau. Check out all of the promotions as well.
This is a family-friendly and pet-friendly activity that will provide fun and entertainment for all ages (and breeds).
The festival grounds are located three miles south of Shakopee off Highway 169. Check the driving directions if you're unsure of exactly how to get there.
For more information, visit www.renaissancefest.com.