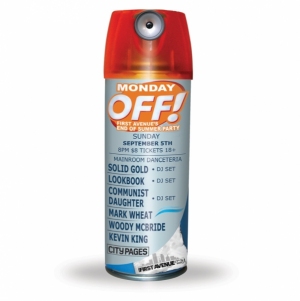 In addition to our regular post, we just wanted to mention this event as well, as it's tomorrow night.
For those who are fortunate enough to have Monday off–or heck, even if you don't–First Avenue is hosting this huge end-of-summer blowout on the eve of Labor Day. The Monday Off End of Summer Party will feature DJ sets by local electro/glam/rock artists Solid Gold, DJ ESP (Woody McBride), Kevin King, 89.3 The Current DJ Mark Wheat, and video jockey 000000000001, and live performances by local rising stars Lookbook and Commuist Daughter.
You'll also be able to get your grub on with authentic Mexican Tacos from Taco Taxi.
Order your tickets online for $8, or get 'em at the door for $10. The Monday Off End of Summer Party starts at 8pm in First Avenue's Main Room and is an 18+ event.
For more info, visit the event page on the First Avenue website.