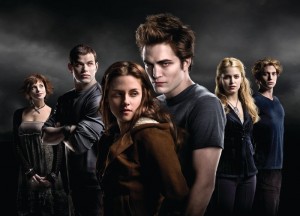 I miss the days when vampires were bad, or at least interesting. What happened to the big bads from the era of Buffy The Vampire Slayer? Those guys had it. Now it seems, vampires have been turned into emasculated, tortured, emo pretty boys.
Despite my own opinion on the matter, it's impossible to deny that the Twilight franchise is immensely popular. The books, movies, t-shirts, posters–all of it. And I didn't hear about it from teenager for the first time. I found out about Twilight from a teacher I took a class from a couple of years ago. Someone who was in her late 30's at the time and was reading the first book. At first, it piqued my interest because I've always been intrigued with vampire lore.
So, it seems, were a whole lot of you.
The Twilight franchise is making its physical presence felt in downtown Minneapolis this weekend, Friday through Sunday September 3rd through 5th at the Minneapolis Hilton. Special guests appearing include Nikki Reed (Rosalie Hale), Bronson Pelletier (Jared), Kiowa Gordon (Embry Call), Christopher Heyerdahl (Volturi Leader Marcus), Michael Wech (Mike Newton), Julia Jones (Leah Clearwater), and others.
The event kicks off Friday at noon with pre-registration and vendors room opens. General admission registration can be taken care of at any time that afternoon until 6. The theater opens at 2pm with appearances by celebrity guests. During this time there will be games, videos, photo opps, autographs and more until 7pm. You can catch a Karaoke party Friday night at 9 with some of the featured guests.
The next day, Saturday, the vendors room and registration opens at 10am. At 11, the theater opens again, with activities similar to Friday's theater time, including an exclusive Twilight Lexicon Panel. Autographs may go past 7pm both nights. Saturday night culminates in the Volturi Vampire Ball starting at 10pm with a DJ, dancing, a cash bar, and celebrity appearances.
Sunday morning, you can have breakfast with Nikki Reed, Bronson Pelletier, Kiowa Gordon, Booboo Stewart, and Jodelle Ferland at 9am. This is NOT part of any package and tickets have to be purchased separately. At 10:30 single-day registration starts and vendors room opens, then at 11, the theater opens for the day's events. Sunday afternoon there will be a costume competition with a grand prize of a $250 gift certificate. Sunday's festivities will wrap up around 6pm.
There are a variety of options available for tickets and attendance. You can purchase single day passes any day, which include vendor rooms and theater time, but do not include evening events. There are general admission weekend tickets available for $69, and preferred weekend admission passes for $169, neither of which include the evening events, but tickets for those can be purchased.
The Gold Package will set you back $289 for the weekend, which includes the best seating, free autograph sessions (front of the line), free admission to both evening events and priority pre-registration. Check out the ticket information and read it carefully, if you want to go.
For more details, visit www.twilightconvention.com.
So now we have to ask…Team Edward or Team Jacob? Comment below.