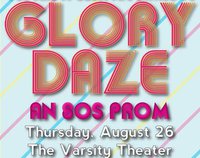 A good many of our readers weren't in high school yet during the 80s. If this is you, maybe it's a good thing you weren't. Or not. I guess it's all a matter of opinion.
If you weren't a teen in the 80s, get set for your chance to Wang Chung all night long at the Varsity Theater's 80s Prom Night, this Thursday the 26th. Doors open at 8pm. Dress in full on 80s style hair and clothes and pay only $5 at the door, or $10 if you're not that ambitious and show up in plain clothes. But if you go all out, it's cheaper and more fun. In other words, win-win.
Study the 1984 movie Footloose and try to master those moves. Coif that hair into your best mall hair, vertical bangs, mullet, or attempt the Flock of Seagulls 'do (not for the fainthearted). Break out your best thrift store finds from the era–checkered slip-ons, black jeans, skinny ties, neon, whatever you can find–and dance to your favorite 80s jams.
You'll take a trip down memory lane with artists such as the Human League, Kajagoogoo, Tommy Tutone, Kool & The Gang, The Eurhythmics, Culture Club, Duran Duran, Prince, Cyndi Lauper, The Thompson Twins, Naked Eyes, Wham!, Madonna, Huey Lewis & the News, Bananarama, and the formerly-referred-to Wang Chung, as well as many others.
Get your nostalgia on and get to the 80s prom on Thursday.
Tickets are only sold at the door. Remember, $5 if you dress the part, $10 if you lame out.
For more information on the Varsity Theater, visit www.varsitytheater.org.