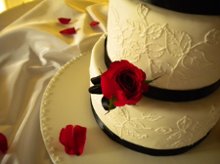 When you host a party, do you even wonder where to buy things for it? I mean, sure. You can get decorations at a paper/party supply store. But what about the food? Are you serving cake? How about flowers? Photographer? Are you sending invitations? These are things to think about.
Tomorrow, Sunday August 15th, from noon to 4 pm, Make it Grand! is having its Grand Opening in its location at 1274 Grand Avenue in St Paul. Make It Grand! is a marketplace of vendors who provide services for your special events. It's a place where you can get almost any service or supply you'd need for a party or event, including weddings.
At the Grand Opening, there will be prize drawings for all registered guests, as well as cake samples and much more. Florists and photographers will be on hand to offer their services for your party. Pastry chefs and caterers will be at the ready to help you plan menus and deal with all things food-related.
There will even be printers to help you with invitations, travel agents to help you plan honeymoons, and videographers to capture the action and emotion of your event with sound and motion.
Sure, ideally you only get married once. But if you're currently planning (or about to start planning) a wedding, party or corporate event, you should show up and rub elbows with some of the folks who are in the business of party planning. It's their job to make sure your event is memorable, efficient and fun for your guests.
This event is family-friendly, free and open to the public.
Make it Grand! is on Grand Avenue in St. Paul, directly across from Kowalski's Market, right next to the Ayd Mill Road on-ramp.
For more information, visit www.makeitgrand.com.