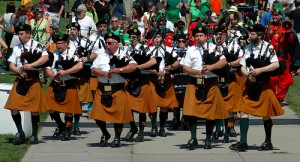 This weekend is so full of awesome we had to squeeze two events into one post. So once again, let's all hope the storms skip us for a few days and let us enjoy some great festivals.
First up: Irish Fair of Minnesota.
Irish Fair of Minnesota
The beautiful grounds of Harriet Island in St. Paul play host to a celebration of Irish culture with the Irish Fair of Minnesota, August 13th through the 15th (Friday-Sunday).
Catch live music on one of the three stages, enjoy a bit of Irish food and drink, learn about the many engaging aspects of Irish culture, take part in a workshop on how to play the Irish bodhran, watch the incredible Irish dancers, and browse through the Irish marketplace.
Headlining this year's live music will be Great Big Sea, Young Dubliners, Lunasa, Tommy Sands, The Hash Kings, and Bua. Besides the nationally-touring groups, you'll also be able to catch many local and regional performers–not just music, but also dancers, authors and other artists as well. For a short description and bio of each of the headliners, go to the Headliners page of the fair website.
Don't forget to check out special events and contests, such as Irish Got Talent, a baking contest, photo contest, Best Legs in a Kilt Contest, and lots more.
For more information, visit www.irishfair.com.
13th Avenue Folk Festival
We have to be perfectly honest about this one. We couldn't find much info on the 13th Avenue Folk Festival except for short writeups on a few blogs and a festival poster (pictured below).
The Festival spans two different venues and features a record swap as well, so bring along those records you can part with and see what kind of new musical treasures you can dig up. The day also includes facepainting, sidewalk chalk drawing, record vendors, a silent auction, and more good stuff. Should be a good event for the kids as well.
As far as the live folk music, one stage will be in Shuga Records' parking lot at 165 13th Avenue NE in Minneapolis, featuring sets by ShugE, Tree Party, Paul Cook, Black Audience, The Rest Easys, Glen Hanson & Friends, and many others. The other stage will be at Club 331. Not sure if that means indoors or outside, but 331 will also have drinks available for festival goers. At 331, the day includes performances by Claire Johnson, Men With Hollow Bodies, Mean Larry, The Dropsteppers, Fattenin' Frogs (pictured), and others.
The 13th Avenue Folk Festival will be this Saturday, August 14th from 11am to 10pm. For more information, see festival poster below.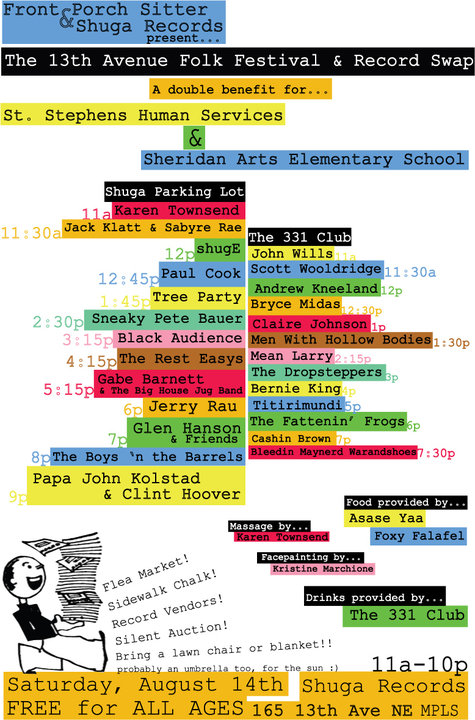 Both the Irish Fair of Minnesota and the 13th Avenue Folk Festival are free, family-friendly events. As always, bring money for food, drinks and shopping.