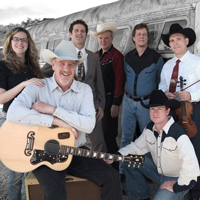 Something recently came through our inbox here at 365, and although there's already a gazillion things going on this weekend, we thought we'd let you know about this show happening on Sunday.
Nine-time Grammy winning Asleep at the Wheel rolls into the Dakota Jazz Club Sunday, August 8th for two shows. The early show at 7pm costs $35 and the 9:30pm show is $25. Get your tickets quickly and no lollygagging. This show is on Sunday. This should be a nice time to kick back and enjoy some jazzy Western Swing after looking at art all weekend or seeing Fringe shows or whatever it is you do this weekend.
The "post-modern kings of western swing" just released a new CD, "It's A Good Day" with one of Bob Wills legendary Texas Playboys, Leon Rausch. The band specializes in fun, upbeat Americana with an emphasis on musicianship.
I went to a show at the Dakota a few years back and it's a cool experience. The way the room and stage are set up provides an intimate venue for a concert while enjoying a drink or some of the restaurant's fine cuisine from their dinner menu, or one of the nightly specials.
Tickets can also be purchased in advance through the Dakota Jazz Club and Restaurant Box Office at (612) 332-JAZZ (5299). For dinner reservations, call (612) 332-1010, then 2.
In addition to Asleep at the Wheel, the Dakota hosts live shows from artists in genres ranging from jazz and swing, to rock and blues pretty much every night. See the calendar for other shows this month.
The Dakota is located at 1010 Nicollet Avenue in downtown Minneapolis. There are several parking ramps and pay lots in the area, but several Metro Transit buses stop near there as well.
More information on the Dakota Jazz Club and Restaurant.
More information on Asleep at the Wheel.