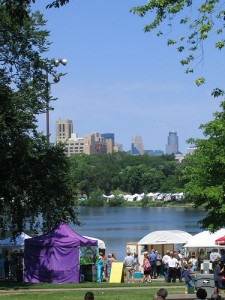 This weekend will be the best weekend of the year for lovers and supporters of crafters and artisans far and wide. We've mentioned the Uptown Art Fair, the Loring Park Art Festival, and today we feature the final chapter in this trilogy of art festivals.
The Powderhorn Art Fair, like the others, will be held this weekend, August 7th and 8th. This festival will take place in the 66-acre park along the beautiful shores of Powderhorn Lake (see photo), and will feature 180 main exhibitors of varied disciplines and styles from across the country, with a variety of media including clay, wood, jewelry, painting, photography, fiber, printmaking, metal, glass, mixed media, and even digital art. For a list of all artists, their medium, home state and other info, visit Powderhorn Art Fair Artists home page.
The art fair profits are used to pay for programs at Powderhorn Park, such as a new teen center, a pottery kiln, a photography lab and a sound recording studio.
Don't forget to check out the food and beverage vendors, live music and entertainment while you browse the artists' wares.
Powderhorn Park is situated between Chicago Avenue and Bloomington Avenue, and between East Lake Street and East 35th Street. The park is four blocks south of the Minneapolis Greenway (13th Avenue entrance), and two blocks south of bus line 21A, which connects with the Hiawatha Light Rail Line just one mile to the east. The Park is easily accesible from interstate Highways 35W (35th-36th or Lake Street exit), or 94 (Cedar Avenue Exit).
And don't forget you can hop on the Art Hop buses provided by Metro Transit for free shuttle service to both the Uptown Art Fair and the Loring Park Art Festival.
Hours are Saturday from 10am to 6pm, and Sunday from 10am to 5pm. For more information about the festival, call Powderhorn Park at (612) 370-4960, or visit www.powderhornartfair.com.