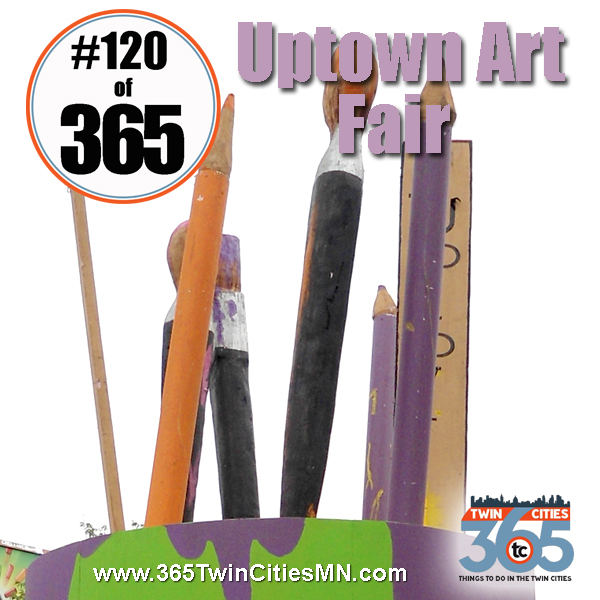 This week on 365 is a big week for art in the Twin Cities. With three art festivals coming up this weekend and a whole mess of other galleries and museums in the area, you can't help but stand up and salute the vibrant arts community we've established here in the beautiful Twin Cities. If you've been to other thriving cities, from New York to San Francisco and everything in between, you'll know that the Twin Cities area has an art scene that rivals the best of them.
That said, the biggest, most famous granddaddy-of-'em-all festival is our feature today: the Uptown Art Fair.
In it's 47th year the Uptown Art Fair will have over 360 professional artists, 40 youth artists, 25 performers, 20 food vendors and hundreds of Uptown businesses. There will be professional works of art in each of 12 media including sculpture, painting, ceramics, jewelry, mixed media, and more, a youth art fair in Calhoun Square, festival food and beverages from over 20 vendors, lots of entertainment from music to magic on the performance stage located in the Old Chicago parking lot, as well as a newly expanded outdoor wine garden located at Old Chicago, which will have wine tasting and wine for purchase. And what goes better with fine art than a fine wine?
If you have kids tagging along, there will be activities to keep them occupied as well. Keep junior busy with interactive art activities at Family Imagination Station and Keys 4/4 Kids Paint a Piano Booth.
The event, which is attended by over 375,000 people annually, is the second most well-attended event in Minnesota–second only to the Minnesota State Fair.
Minneapolis has become a national leader in green living and this year's art fair has some exciting new green initiatives. First, there will be bottle and can recycling available in addition to the usual trash receptacles. In an effort to keep emissions surrounding the event to a minimum, the Uptown Art Fair will also offer complimentary bike valet parking at the intersection of Humboldt Avenue and The Mall, near the Midtown Greenway trail. For more information on this initiative, visit www.uptownfair.com.
There will be an information booth available at the corner of Hennepin and Lagoon for tips about the area, tons of giveaways, coupons, and other special offers from Uptown businesses. For example, reps from the new Uptown Apple store will be on hand to let you try the new iPad while you fill out a visitor survey.
For those that are connected and mobile, there will be hourly trivia questions posted on Uptown Art Fair's Twitter page. Answer the question correctly at the booth and you can win great prizes.
The Uptown Art Fair sells parking to the general public in a lot just south of the intersection of 28th Street and Girard Avenue. Limited street parking is also available in the area surrounding the Art Fair. However, if possible, it's recommended to take Metro Transit buses or ride your bike to the fair. The Midtown Greenway is a fantastic way to reach the area by bike from the east or the west.
The Uptown Art Fair is held on Hennepin Avenue from 28th Street to 31st Street and "The Mall." The 2010 Headquarters is located at 1440 W. Lake St.
HOURS:
Friday August 6: noon-8pm
Saturday August 7: 10am-8pm
Sunday August 8: 10am-6pm
For more information, visit www.uptownartfair.com.