I bet you were just thinking about how cool it would be to go mini golfing. Not just mini golfing, but mini golfing while learning about how water effects the landscape and enjoying an awesome view of the Mississippi River.
Fess up. You were just thinking that, weren't you?
The Science Museum of Minnesota, which we previously featured, has got you covered. The Big Back Yard is a 1.75-acre outdoor science park that uses miniature golf to teach visitors about how river systems sculpt the Earth's surface–eroding, transporting and depositing sediment–and about the impact that human activities have on these processes.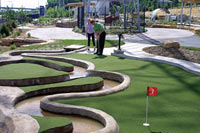 The Big Back Yard includes a nine-hole EarthScapes miniature golf course that provides a fun—and challenging—way to learn how water moves from mountains to oceans and shapes the landscape along the way. With water hazards like you've never seen before, this 30,000 square-foot course demonstrates that rivers and streams are alive and ever-changing.
Each golf hole teaches a different key lesson about water's effect on our physical environment. For instance Hole #2 teaches about erosional landscapes, while Hole #6 informs visitors about city surface runoff.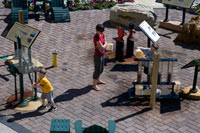 Also added to the Big Back Yard is Ground Water Plaza. At the Ground Water Plaza, visitors can fill buckets with pristine water from the Science Museum's 300-foot-deep artesian well, and pour the water over samples of bedrock and sediment found beneath the Twin Cities—rock formations that are important sources of ground water. If you've ever wondered how water can move through seemingly solid rock, you can find out for yourself as you explore these exhibits.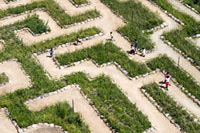 A third part of Big Back Yard is the Prairie Maze & Gardens, which features a 17,000 square-foot maze in which the paths are flanked with native prairie grasses and wildflowers. Enter the maze, take in the beauty of the prairie flowers, and imagine a place where the sky and prairie extended as far as you could see. And as you wander through the maze, find the hidden markers to learn about the importance of prairies, how they clean our environment and power our lives, and why it is important to have prairies in Minnesota.
Of course, near the maze you will find gardens as well, such as Three Sisters Garden, which grows an experimental variety of food plants, and Turtle Effigy Garden, which has four quadrants, each planted with indigenous plants and herbs. The four sections form the shape of a turtle, giving the garden its name.
The Big Back Yard is free with museum admission, but mini golfing is an extra $4.50 for adults and seniors or $3 for kids 4-12. You can play mini-golf after 5pm for only $5 without the purchase of museum admission. To do this, stop at the box office and pick up a special sticker.
Big Back Yard is open 10am to dusk daily, weather permitting.
For more information on the Big Back Yard, visit www.smm.org/bigbackyard.