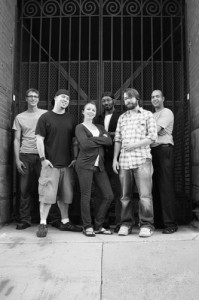 In last year's Nationals, St. Paul's Poetry Slam team went home with the national title. So that means this year, they get to host nationals.
The National Poetry Slam will be held at various venues throughout St. Paul from August 3rd to August 7th with over 80 teams consisting of multiple poets, culminating with the finals on the 7th.
You can support your home team by checking out the various activities happening all day and all evening long, both on the grid and off the grid. Then each night you can find a number of different late night activities to further entertain and delight you.
Late night events include hip-hop and spoken word shows, an Erotic Poetry Showcase, the Encyclopedia Show, the Limerick Battle, and others. Daytime activities include a Rookie Open Mic at the Artists' Quarter, Nerd Slam (an open reading focusing on comic books, video games, fantasy, sci-fi), and even Head to Head Haiku, which happens Wednesday August 4th at 1:30 to 3pm at the Lowry Lab Theater, 360 St. Peter Street in St. Paul. Fifteen of the finest will face off with their best haikus. There will also be culturally-aligned readings showcasing different cultures and the poets who best represent them.
To meet members of the reigning champion St. Paul Slam Team visit The651.com and scroll to the bottom.
Prices, times and events vary. To check out the schedules for both official competition events and extra events including day-time events and late-night events, and to purchase passes visit www.nps2010.com.