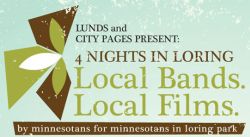 We were bummed when we read that the Loring Park outdoor movie series was put out to pasture this summer, but it appears they've added some cool stuff to take its place.
We just found out this morning about Four Nights in Loring, a celebration of local bands and films with local ties. In other words, a local writer, producer, director, etc. And we all know that the Twin Cities has a rich pool of cinematic talent.
This free event is happening on Tuesday nights starting August 3rd and wrapping up August 24th.
Each evening, the live music starts at 7pm followed by the movie screenings at dusk. Then you can head over to Nick and Eddie for more live music at the afterparty.
The series kicks off August 3rd with a live set from local heroes Communist Daughter followed by a showing of Raising Arizona, written, produced and directed by St. Louis Park natives Joel and Ethan Coen. Then at the afterparty, catch local electro pop outfit Estate.
The following week, Tuesday August 10th, see Marijuana Death Squad with P.O.S. and members of Gayngs perform live. At dusk, a screening of Fargo will hit the screen, also written, produced and directed by the Coens and filmed entirely in Minnesota and parts of eastern North Dakota. Ironically, the only part shot in Fargo was a couple of seconds of scenery. Go figure. Anyway, after the movie, hit Nick and Eddie for afterparty hijinks with local indie rockers City on The Make.
August 17th see a live performance by Mayda before catching the quirky indie comedy Juno, penned by local screenwriter Brook Busey, better known by her pseudonym Diablo Cody, who wrote the screenplay for this film in the Starbuck's inside the Target store on Bass Lake Road in Crystal. Catch afterparty fun with Pink Mink following the movie.
The series ends with mayhem on August 24th. Local rockers Red Pens start the night off at 7pm. Then at dusk, catch a screening of Nobody, an indie comedy produced by Minneapolis director Rob Perez and featuring a largely local cast. It was filmed in the Twin Cites and was executive produced by local-boy-turned-celebrity Josh Hartnett. Then to finish with a bang, hit the afterparty for some ridiculous insanity with rising stars and local rockers The Goondas.
Loring Park is located on the edge of downtown Minneapolis, just across Hennepin Avenue from the Walker Art Center.
For more information about the music and film series and for descriptions of the bands, visit Gimme Noise online.